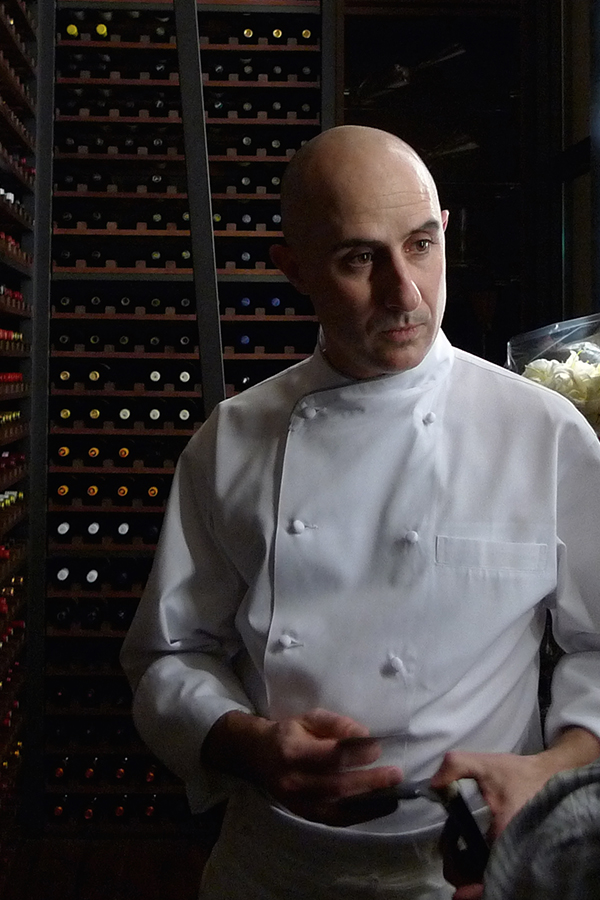 Matthew Crabbe
Born in Sydney Australia, Matthew was brought up in the beautiful countryside of Kenthurst surrounded by extraordinary nature and animals. Whilst studying at Ryde College in Sydney, he began his culinary career in 1987 as an Apprentice Chef at Balthazar in Sydney, after which he joined the classical French restaurant, Browns, in Melbourne. In 1994, he returned to Sydney joining the award-winning five-star restaurant Tetsuya's as Sous Chef where he learned important techniques that bring out the true flavors of ingredients, and enhanced his culinary senses through the incredible fusion of Japanese and French cuisine.
In 1995, Mathew left Sydney to broaden his experience and see other types of cuisine in England, U.S.A., Mexico and Japan, where he worked at Michelin-starred restaurants and five-star hotels. In the United States, he worked as sous-chef at Lespinasse in Washington DC, and while he was there the restaurant was selected as the best new restaurant in North America. In Mexico, he was in charge of the restaurant operation for the five Haciendas as the head chef and Food & Beverage manager.
He arrived in Japan as the Chef of the acclaimed New York Grill and Bar at Park Hyatt in Tokyo. Matthew was then promoted to Executive Sous Chef at Grand Hyatt Tokyo. In November 2005, he was appointed as the opening Executive Chef of the Hyatt Regency Kyoto and has been involved in the hotel development from planning to construction, operation. He contributed to the establishment of its high standard.
During three years in Kyoto, he had worked closely with the local community including the Nishiki market, collaborated with craftsmen and artist, experienced the traditional culture respecting nature, seasonal events and local ingredients – all enhanced his culinary sense greatly.
He left Hyatt to follow a dream in an uncompromised environment. As the Chef Director of TWO ROOMS GRILL|BAR, Matthew would like people to feel comfortable and welcomed on any occasion. Matthew believes that food should be simple, so that notable flavours and different textures and aromas might be best experienced by the senses. Now he runs 3 restaurants and bars in Tokyo: TWO ROOMS, R2 SUPPERCLUB and RUBY JACK'S Steakhouse & Bar (Tokyo Ark Hills South Tower and the Manila casino City of Dreams).
PROFILE
Date of Birth: July 28, 1970
Nationality: Australia
Language: English (Native), Spanish, Japanese
1987 Apprentice Chef, Balthazar (Sydney)
1991 Ritz Carlton Sydney
Browns (Melbourne)
1994 Sous Chef, Tetsuya's (Sydney)
1995 Chef de Partie, Pied a Terre (London)
1996 Head Chef, Lespinasse (Washington D.C.)
1998 Head Chef/ Manager of Food & Beverage, GHM Mexico, Haciendas of Yucatan
Head Chef/ Manager of Food & Beverage, GHM Mexico, The Careyes – Jalisco
2000 Head Chef, Iman (Mexico City)
2001 Head Chef, New York Grill at Park Hyatt Tokyo
2005 Executive Sous Chef, Grand Hyatt Tokyo
2005 Executive Chef, Hyatt Regency Kyoto
2009 Chef Director, TWO ROOMS GRILL | BAR
2011 Chef Director, R2 SUPPERCLUB
2014 Chef Director, RUBY JACK'S Steakhouse & Bar
2015    Chef Director, RUBY JACK'S Steakhouse & Bar – City of Dreams, Manila
URL
COLLABORATTIONS
2015.10-2016.4 (Autumn & Winter)
TOHOKU EMOTION – JR East
2015- La Semaine du Gout au Japon (Educational Program)
2016- Friends of Australia – Tourism Australia – Guest Chef "The Long Table Dinner"
Media Work (TV)
2009.9 Uchikuru !? (Fuji TV)
2009.9 Guru Guru Ninety Nine Gochi ni Narimasu (Nihon TV)
2009.12 Tokyo Jocho Shokudo Magazine Front Cover (Tokyo Calendar)
2012.3 ABC News (TV- Australia)
2012.6 Destination Flavour Japan (TV- Australia)
2012.4 Arashi ni Shiyagare (Nihon TV)
2012.6 Destination Flavour Japan (Australia)
2014.8 Guru Guru Ninety Nine Gochi ni Narimasu (Nihon TV)
2014.10 Asa Ichi Kaiketsu Gohan (NHK)
2014.7 Shin Houdo 2001 (Fuji TV)
2015.12 – 2016.3
Delicious Japan (NHK WORLD)
2016.2 Doki Doki World TV(NHK)
2016.5 News Every (Nihon TV)
Evening News (Channel 4, Australia)
2017.4 Chihara Seiji's Kid's World (Hokuriku Asahi TV / CATV)
…and more publications / online media coverages in Japan and Overseas.
Projects
04/25/2018:

How to be Imperfectly Perfect